Are you looking for Yarra Valley wedding limo hire to make an unforgettable entrance on your big day?
Ask any bride-to-be in Victoria, and there's a good chance that a Yarra Valley venue is on her short list! On that list you'll probably also find local services renowned for creating beautiful memories in this go-to wedding region. Experienced drivers who know the area and roads are important too, which you'll find with a top-rated Yarra Valley wedding limo hire company.
Enrik Limousines is one such company, priding itself on exceptional service and an elegant, show-stopping fleet of Chrysler limousines. Your Yarra Valley wedding limo hire is sorted!
With years of experience in the industry, the team at Enrik Limousines has worked with many of the finest wedding venues in the Yarra Valley region. And it shows – brides don't need to worry about whether they'll get lost or take the long route, or get nervous wondering whether their driver is going to successfully navigate windy roads, hills and tight driveways!
Some of our greatest memories are in the Yarra Valley. Without a doubt, it is one of the most picturesque regions in Victoria, and perfect for any wedding. At Enrik Limousines, we have established wonderful relationships with many of the venues, and this can make for a seamless wedding day.
So if you're looking at this area for your big day, how do you choose from the multitudes of venues out there? We know of many amazing locations, and would love to name them all. We've named a few here, and encourage you to take a drive, check out the venues that you feel drawn to, and immerse yourself in the romance that is the Yarra Valley!
Zonzo Estate
Zonzo Estate is a truly unique wedding experience, where rustic charm and luxury meet in one magnificent union! Set in Yarra Glen, in the heart of the Yarra Valley, this award-winning venue is celebrated for its refined and delicate flavours, stunning wines and an unmistakable signature style.
Sarah and Michael fit right in with the romantic atmosphere at Zonzo Estate, and so did our black Yarra Valley wedding limo hire.
Bram Leigh Receptions
If you are a after the ultimate romantic venue, then this is the place for you! Fairy lit gardens, exceptional food and a ballroom alight with stunning chandeliers all await your grand entrance…
We had the pleasure of transporting beautiful Naomi and Jordan to Bram Leigh Receptions in one of our timeless Chrysler limousines.
Visit here for more information about Bram Leigh Receptions.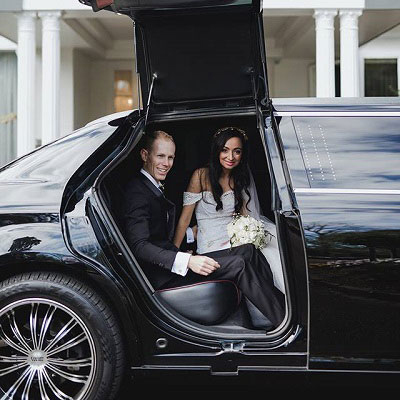 RACV Healesville Country Club
For those couples looking for an all-inclusive venue in the Yarra Valley, the RACV Healesville Country Club is a wonderful choice. Nestled in the foothills of the Great Dividing Range, it has 14 separate event spaces, including an impressive ballroom that has equally inspiring views of the mountains.
The property itself has 80 rooms for accommodation, as well as a diverse dining experience and an onsite day spa.
Its bold, contemporary style is a great attraction for many couples, and lends itself to some striking photo opportunities!
Stones of the Yarra Valley
Set to a striking mountain backdrop, Stones of the Yarra Valley is the perfect venue for couples who are looking for something with a bit of rustic, nostalgic charm. Built from an old barn, it now boasts two great restaurants – The Barn and The Stables at Stones – a rustic chapel and dairy.
Shani and Cham chose Stones of the Yarra Valley for their big day, and chose Enrik Limousines for their Yarra Valley wedding limo hire. These gorgeous photos speak for themselves. A wonderful location, lovely couple and an elegant, timeless Chrysler limousine!
Riverstone Estate
Ask couples what they love most about tying the knot at The Riverstone Estate and you'll receive a myriad of responses. You'll hear about the breathtaking panoramic views, the wonderful wines, gourmet food, and exceptional service.
This venue looks amazing, whatever the weather or season – Autumn weddings are a beautiful experience at Riverstone. And for the foodie in all of us, you'll find gourmet wedding packages to suit absolutely any couple, size and style!
Whatever venue you select for your wedding day, make sure you choose a reliable, service-focussed Yarra Valley wedding limo hire company to match!
Enrik Limousines is a multi-award winning company that has been transporting happy couples in style and luxury for over a decade!
Contact us today and see how we can help make your day memorable too!