Let our Vogue Ballroom limo hire take you to your own fairy-tale wedding!
For many brides, a wedding day is the day that princesses become queens! If you've checked out Vogue Ballroom in Melbourne's East, you know that it is just the place for this transformation. And it all begins with your Vogue Ballroom limo hire – arriving in absolute luxury sets the tone for your dream wedding.
If you're after a day that is unique and sophisticated, you can't go past this amazing venue, or our unparalleled Vogue Ballroom limo hire.
There are no cookie-cutter weddings at Vogue Ballroom. Located in Burwood East, you get the best of both worlds – the convenience of Melbourne, with the relaxed atmosphere that comes from stepping outside the city's inner circle.
Step inside this stunning venue and you'll be astounded. You have grandeur and glamour without arrogance, and a sense of luxury that is meshed with comfort. The ceilings in the ballroom measure six metres tall, with French provincial crystal chandeliers and a mezzanine balcony overlooking the ballroom itself. You'll be surrounded by luxurious décor – marble, stone, crystal and silk.
Imagine your guests waiting in the lavish marble foyer, champagne and canapés in hand. Their heads turn as your Vogue Ballroom limo hire rolls to the front door, announcing your arrival. You step out of the Chrysler limousine, and feel every bit the beautiful bride that you dreamed you would be.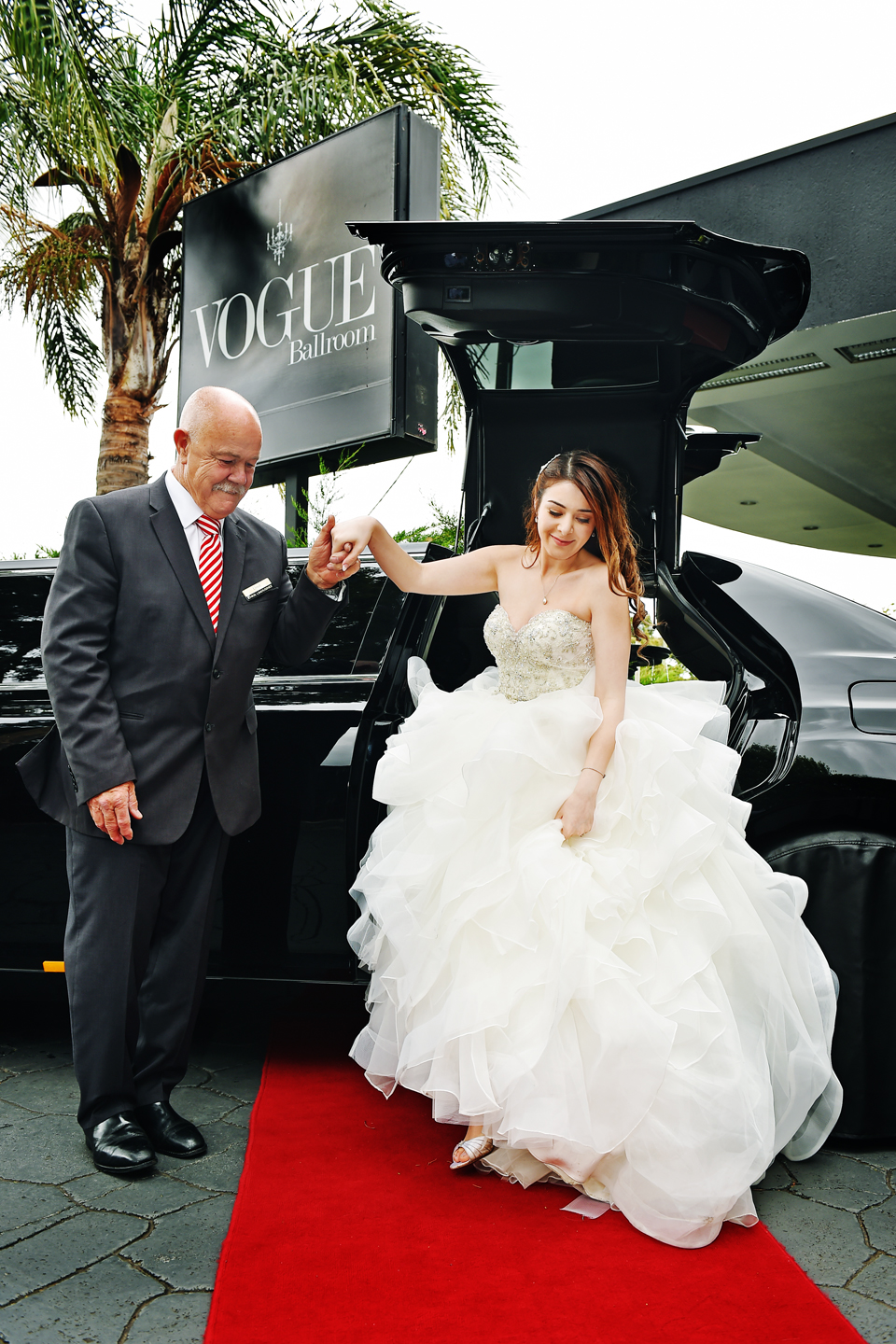 As you all make your way into the main ballroom, your guests will feel as though they've stepped into an alluring fairy-tale or blockbuster Hollywood movie…
And this is just the beginning. It's one thing to be surrounded by sophistication, but another altogether to indulge in a culinary experience that makes your wedding day the talk of family and friends for years to come.
With a modern international menu, you can custom tailor your wedding day menu to suit your personal tastes.
At Enrik Limousines, we pride ourselves on building great relationships with some of Melbourne's top wedding venues, and Vogue Ballroom is a brilliant example of this. Providing the best Vogue Ballroom limo hire is easy when you have created a rapport with the wedding team.
In many ways, your limo hire company can be the link between your own dreams and your wedding venue. So choose wisely! Contact us today for an obligation-free quote, and see how we can help make your big day a dream come true.
Credit: Vogue Ballrooom