Stones of the Yarra Valley Wedding Limo Hire – Zoe and Tom
If you're looking for Stones of the Yarra Valley wedding limo hire, follow Zoe and Tom's lead and start your big day with a sleek black limousine to create an air of grand romance.
Every bit the stunning bride and handsome groom, they chose the Stones of the Yarra Valley wedding limo hire for its elegance.
While Zoe's gown was the very essence of Hollywood style, Tom's suit matched it perfectly, with Stones of the Yarra Valley wedding limo hire stepping into its supporting role.
Zoe and Tom oozed understated glamour, which you can see in their photos, and our black Chrysler stretch limousine provided a wonderful backdrop – as well as indulgent transport – for their wedding day.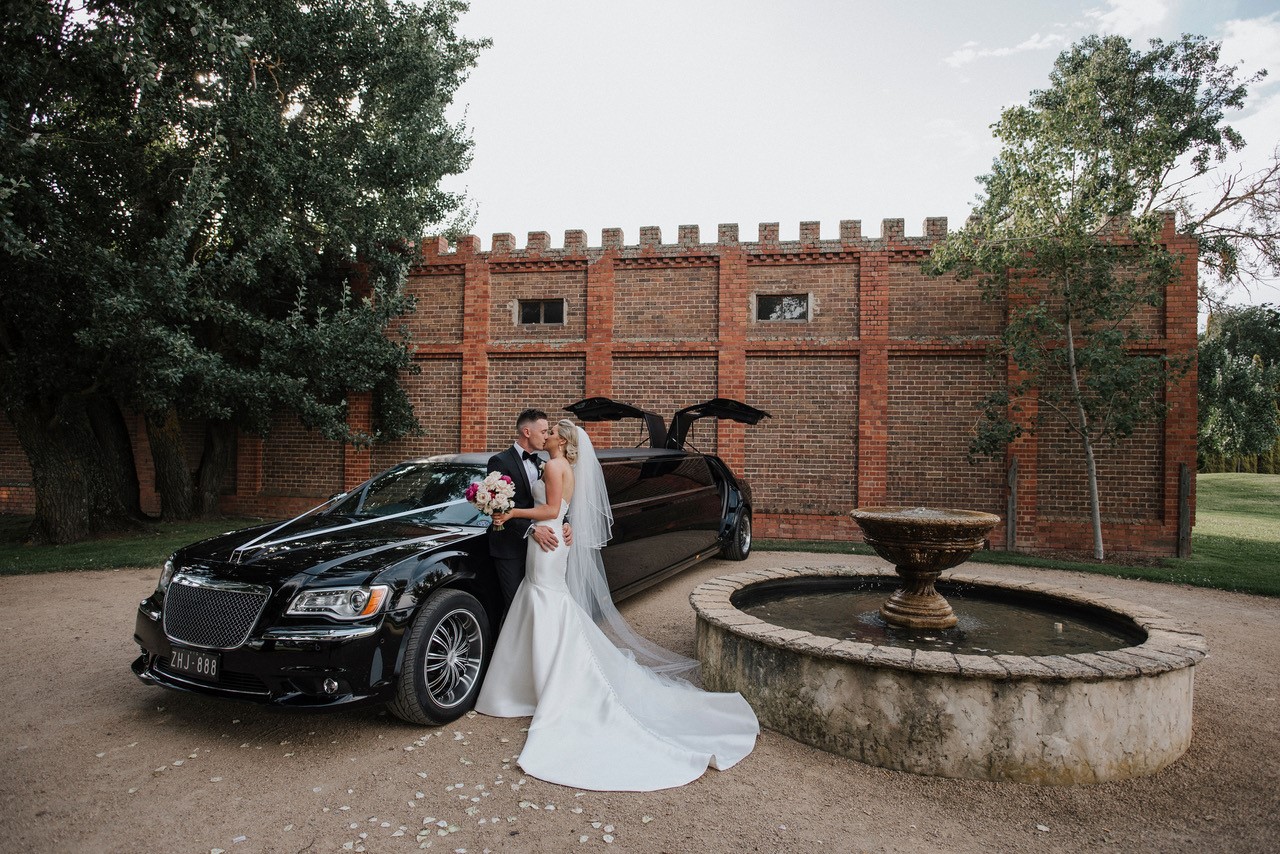 Stones of the Yarra Valley, in historic Coldstream, provided a vintage rustic energy for the occasion, which was captured by Stu Art Videography and Genelle at Immerse Photography. 
This is a team of exceptional wedding service providers; one we have worked with before.  The outcome was a wedding day that was destined to be amazing and captured by some of the most talented people in Victoria to ever stand behind a lens!
At Enrik Limousines, we have seen a lot of weddings over the years and have felt privileged to be chosen as wedding transportation for every one of them.  This wedding is one that stands out for us, with so much love radiating from the happy couple.
The romance on this glorious day was at an all-time high!
What makes a limousine such a brilliant choice?  Well, for starters, there is an abundance of space and loads of luxury. It is about all the little extras – the snacks and champagne, the "red carpet" treatment, the sound system and lighting.  Add to this expert and reliable chauffeurs, and you have the ideal and complete transport package.
If you're planning a romantic, rustic celebration in the heart of Victoria's popular wedding region, make sure you choose Stones of the Yarra Valley wedding limo hire that will make your day extra special.  Get in touch with the award-winning team at Enrik Limousines today.