Jenny & Tas were married on a beautiful Autumn day in April.
They are very genuine and humble people, and it was an absolute pleasure to be a part of their wedding day surrounded by their beautiful family and friends.
Enrik Limousines has the best limo hire Melbourne has to offer. Our range of wedding limousines and luxury sedans means we can cater for almost any wedding transportation requirements. Our 12 years in the industry is testament to our passions and enthusiasm to ensuring a memorable experience for each of our couples.
The day started for us at Jenny's place. The 10 seater black Chrysler limousine was shining as the wedding photography shots were well on the way. Paul from Immerse Photography was on the job so we knew we were in for a fun day! Wedding photography is such an important part of a wedding day, and Jenny and Tas were in great hands. Working with Immerse Photography over many years, we know they create wonderful memories for their couples.
The limousine drove to the ceremony location, with music playing softly in the background. The discussion quickly turned to whether the bottle of champagne should be opened now, or after the ceremony! The limo drive was smooth and slow – as it should be.
As we arrived at the Greek orthodox Church in Malvern East, Paul from Immerse Photography was there waiting. The window is let down, ready for Paul to take some photos of Jenny inside the limousine. I then got the red carpet and tyre cover ready. People always ask what the tyre cover is for. It is there to protect the bride's dress as she enters and exits the limousine, and we use this every time!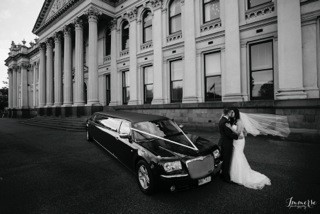 It was great to see so many people at the ceremony. After all, this is where they get married! Family photos were taken close by at Central park in Malvern. The limousine only just warned up before we stopped again to get everybody out. The champagne would have to stay on ice!
After the formalities with the family photos have finished, it was time to up the ante a little. Enrik Limousines provides limo hire Melbourne wide. The black Chrysler limousine will help get everyone around in style. With seating for up to 10 passengers in the rear, three flat screen TV's, an awesome sound system and spectacular interior lighting, you know the party is about to gear up! The music was cranked up, and the champagne was opened for a fun-filled limousine ride of magic and celebration.
First stop was the South Melbourne Town Hall. It has stunning areas for wedding photography and also one of the better areas for limousine photos. I watch as Paul does his magic.
Photos at Luna Park were also amazing. There was so much colour to work with! As with most Autumn days, what was a beautiful day, quickly gets cold as we head into the evening. With this part of the photography out of the way, it was time to head to Vogue Ballroom for a stunning reception.
George and his team at Vogue Ballroom always go out of their way for all their couples and guest. Customer service and attention to detail is of high quality. This iconic Melbourne Wedding venue is perfect for almost any occasion.
For more information on our limo hire Melbourne wide, contact us today at Enrik Limousines!
"Thanks to Peter for being our driver on our special day. He was extremely professional and helpful with any questions in the lead up to the big day. Thanks again!" Tas & Jenny
Enrik Limousines www.enriklimousines.com.au
Immerse Photography www.immersephotography.com.au
Vogue Ballroom – www.vogueballroom.com.au