Are you looking for the best wedding transport service? Enrik Limousines has one of the largest fleets of Chrysler limo hire Melbourne has to offer.
What a great way to get around on your wedding day! A Chrysler limo will get you there in a way that is easy, convenient and loads of fun.
Just imagine it – all travelling together in your Chrysler limo hire Melbourne, listening to some music, having a drink to celebrate with your bridal party… The experience will inspire a lifetime of memories.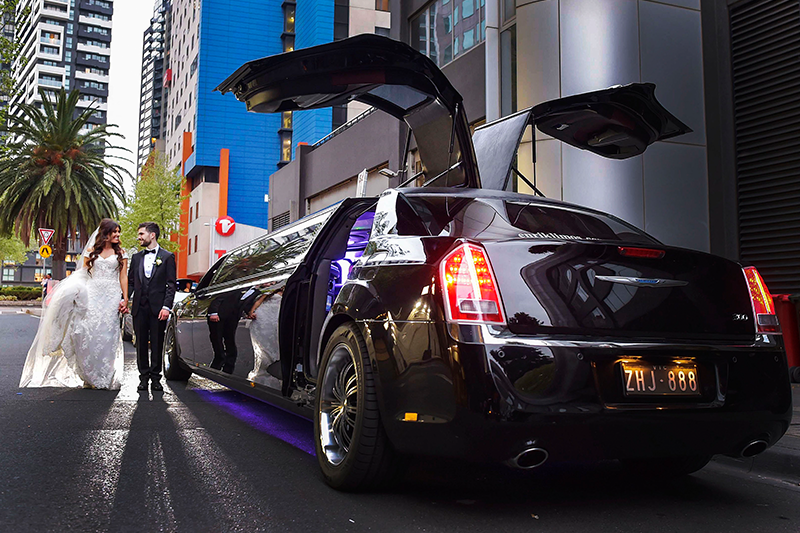 There are many options available for transportation on your wedding day, and Chrysler limo hire in Melbourne is just one of them. Depending on the size of your bridal party, a Chrysler limousine can be one of the most convenient and cost-effective ways to travel.
Rather than using three or four wedding cars to get around, all while trying to manage the difficult task of staying together and find parking spots, Enrik Limousines has a number of Chrysler limos available that are suitable for larger groups.
The Chrysler limousine is strong and bold on the outside, while being stylish and elegant on the inside. You will find all the entertainment facilities you need. 3 flat screen TVs and DVD player with USB and bluetooth connectivity will make listening to music a breeze, whatever your device!
Gorgeous leather interiors add to the sense of luxury, and our impeccably maintained air conditioning always keeps everyone comfortable. Spectacular interior lighting tops the list and sets the mood for a fabulous day.
Let's not forget the extra amenities! Our limos feature elegant bars stocked with ice to help keep drinks cold.
Chrysler Limo Hire Melbourne provides a welcome distraction on the way to your ceremony, helping settle any last-minute jitters as everyone delights in all the features it has to offer.  
When you book one of our Chrysler limos in Melbourne, your service automatically comes with bridal essentials. This includes a wedding ribbon, interior tulle, red carpet for your arrival at the ceremony, a tyre cover to keep your dress clean as you enter and exit the limousine, bottled water, and a bottle of sparkling wine to celebrate the occasion. We also have first aid and sewing kits at the ready – just in case! 
It goes without saying that our Chrysler limo hire Melbourne comes with Enrik Limousines' highest standard of service. We love weddings and we love making your wedding day memorable and fun. Our chauffeurs are the best in the business. 
Don't just take our word for it.  We have over 15 years' experience in the wedding limousine industry and have accumulated multiple awards for being the best in the business. We also have over 500 reviews online to help ensure peace of mind.  Why would you leave your Chrysler limo hire to just anyone?
Enrik Limousine provides the best Chrysler limo hire Melbourne has to offer.  Check out our fleet of Chrysler limousines at www.enriklimousines.com.au and contact us today for an obligation-free chat.