A true Melbourne wedding needs big Melbourne style – you can't go past Red Scooter for that unique touch of glam. And you also need chic Red Scooter wedding limo hire to match!
There is no better way to arrive at your wedding or reception than with an elegant limousine. And the Enrik Limousines team has been the go-to Red Scooter Wedding Venue limo hire for many couples.
Take Melinda and Michael for example. They created a modern, individual and fun wedding day, and we're sure they shared many remarkable memories with each other and their loved ones. This beautiful couple arrived in Dark Angel, one of our signature Chrysler limousines – and like many other couples, were keen to spend a few extra moments in the luxurious interior.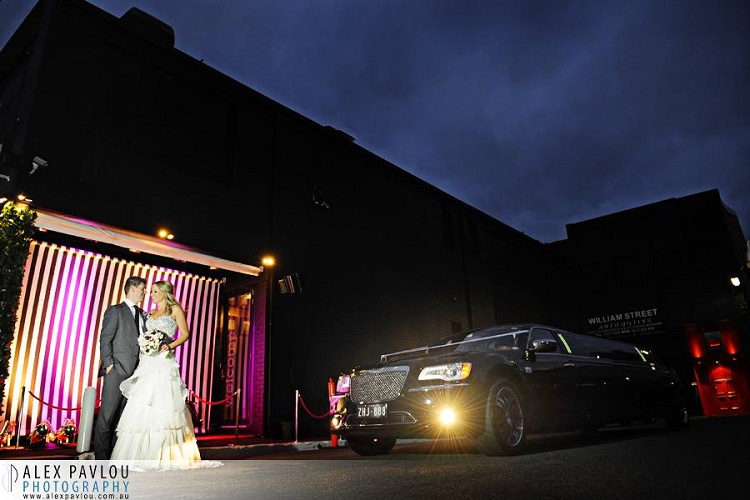 Or then there's another lovely Melbournite couple who chose Dark Angel's cousin – the white Chrysler limo for their Red Scooter wedding limo hire. We love the touch of Hollywood glamour that this limousine brings to any event. The white certainly pops against the grey building exterior, and makes for brilliant photo opportunities.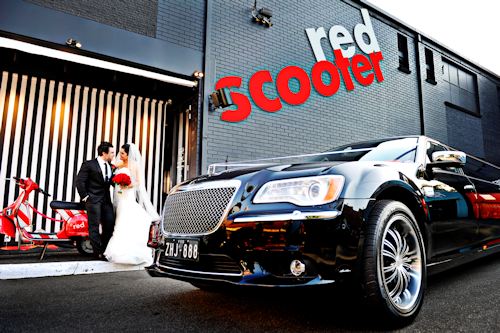 Dazzling weddings are always on the menu at this amazing venue – just like the gorgeous Vesna and John, who also opted for a dash of drama with a black Chrysler limousine.
Vesna also opted for a great colour match with her flowers, the vivid red against her white gown giving her photographer the perfect complement to the Red Scooter signage and scooter.
Red Scooter is one of the finest, most unique venues available in Melbourne. With a multitude of awards, distinctive style, and a variety of all-inclusive packages to choose from, you'll soon understand why it is popular with so many couples.
Located at 25 William St, Balaclava, there is no shortage of public transport options, accommodation for guests, and surrounding attractions. Inside you'll find four flexible wedding venues, and all couples are assigned their very own personal wedding coordinator.
Great beverage choices, an abundance of gourmet food and reliable service are all part of the experience as a Red Scooter bridal couple. Pair that with Enrik Limousines for your Red Scooter wedding limo hire, and you are setting yourself up to have the wedding day of your dreams.
Enrik Limousines has been transporting couples to their wedded bliss for over a decade, and have become an award-winning industry leader. Contact us today or go online for a quote, and see how we can give your day some extra glamour too!
Photos courtesy of Icon Wedding Photography Melbourne
Credit: Red Scooter