White sand and sparkling water, with blue skies or colourful sunsets… the magic is there for the taking.
Picture-taking that is! So you should make sure your Melbourne beach wedding limo hire is just as magical.
Take a moment to recall the most romantic wedding photos you've ever seen. Where were they? What was the backdrop like? There is a good chance that you are picturing a beach wedding right now!
Melbourne has a coastline just made for weddings. And if you love the water, there are so many bay venues to choose from it could be tricky to narrow it down to just one.
At Enrik Limousines, we've become old hands at Melbourne beach wedding limo hire. And we've been to all the best venues! So we're here to offer you a few venues to help you make the biggest wedding decision of them all (apart from choosing your partner in crime, of course)!
Encore – St Kilda Beach
Encore is a statement venue, located at the iconic St Kilda Sea Baths. The style at Encore is chic and simple; giving couples a stunning canvas to create their perfect wedding.
With flexible room layouts and modern décor, Encore can accommodate large groups (300 for seated receptions, 700 for cocktail), while having the ability to modify rooms for smaller, cosier weddings. Encore is also home to the St Kilda Summer Wedding Open Day, held in February.
Floor to ceiling windows bring your wedding and the sea together, with magnificent views out to Port Phillip Bay. If your guests want to have a wander and soak up the St Kilda beach vibe there are a number of spots to explore, including a courtyard, rooftop and the sandy shore itself.
Needless to say, your backdrop for photos will be second-to-none!
Sandringham Yacht Club – Sandringham Beach
This award-winning venue is renowned for its brilliant, uninterrupted water views and amazing food. With large windows and balcony, your guests will love the connection between the venue and the beach, enhancing the waterfront experience.
The Sandringham Yacht Club offers a personal wedding coordinator as part of your package, and is surrounded by a fantastic team of wedding service providers to help make your day extra special and hassle free! Add to this team the best Melbourne beach wedding limo hire available, and your day is sure to be amazing.
For eco-conscious couples, the Sandringham Yacht Club has won awards for its many environmentally-friendly initiatives.
Brighton Savoy – Middle Brighton Beach
In keeping with the award-winning venue theme, the Brighton Savoy has been hosting waterfront weddings for over 50 years. With a variety of spaces to choose from, the Brighton Savoy can cater for a small, intimate wedding to a large celebration in grand ballroom style!
Located just opposite Middle Brighton Beach, photographers are always in their element here. The colourful Brighton beach boxes make the perfect backdrop for fun and beautiful photos.
Check out our happy couple, Louise and Trent, who chose Enrik Limousines' 6-seater black Chrysler limousine for their Melbourne beach wedding limo hire.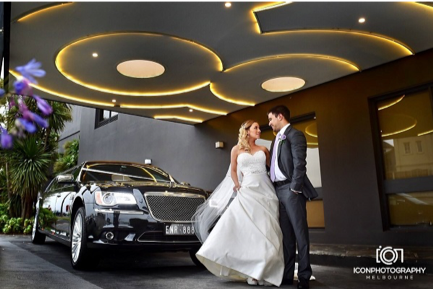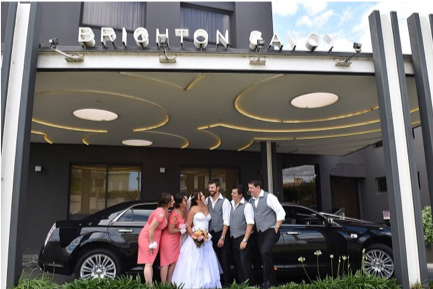 Anique and Fred decided to have the best of both worlds, choosing to have their ceremony at the Brighton Savoy, followed by their reception at the Sandringham Yacht Club. We like to think they just wanted to take full advantage of a luxury limo ride!
The Brighton Savoy also has onsite accommodation for guests, and every bridal package includes a complimentary wedding night stay in the Honeymoon Suite. What better way to enjoy the morning after your wedding than with a gourmet breakfast while soaking up the beachy sun!
Royal Melbourne Yacht Squadron – St Kilda Beach
With seemingly endless views of Port Phillip Bay from the Harbour Room, Roof Top and balcony at the Royal Melbourne Yacht Squadron, your guests will be captivated by the amazing vistas as well as the gourmet eats by celebrated catering company food&desire.
The Royal Melbourne Yacht Squadron's rich history impresses any guests, and adds an exciting element for those who are interest in the history of boating and the St Kilda area.
Sails on the Bay – Elwood Beach
Beautiful beach weddings don't get much better than Sails on the Bay. It has expansive bay views combined with a divine culinary experience – all just metres from sandy Elwood Beach!
The contemporary venue gives couples the opportunity to put their own stamp on it – a canvas for their own wedding day style. There are so many perfect spots in and around Sails on the Bay, your wedding day photos will be the envy of all your friends.
When it comes to Melbourne beach wedding limo hire, the team at Enrik Limousines has over a decade of experience under its belt.
Contact us today and we'll help make your beach wedding dreams come true!