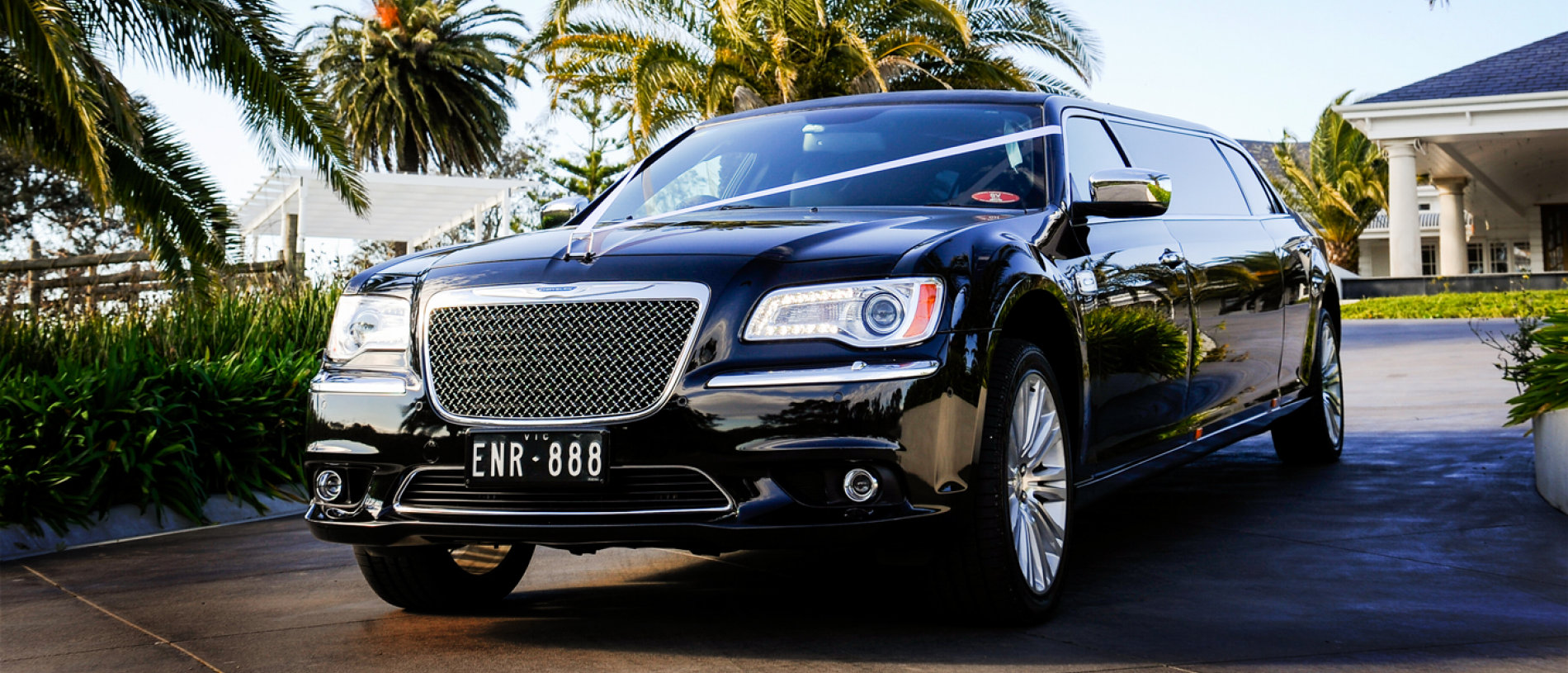 Black Chrysler 7 seater Limo
The brand new 7 seater (6 in the back plus 1 in the front if required), black Chrysler limousine.  This is a stunning elegant limousine and the only one of its type in Victoria.  Whilst others are going bigger, Enrik Limousines recognised a niche in the market for this smaller limousine.
Not only is it easier to drive, it also makes accessing some of those "tricky" areas more convenient.  Some of those stunning reception centres in the mountains, or at some of the wineries are no longer a problem for this versatile limousine.
This brand new limousine caters for some of the smaller bridal parties. No longer the need to pay for, or get lost in those big 10-12 passenger limousines.  It is also very handy for when your ceremony and reception centre is all in the one place.
And what about the boys?  This is a great way for them to travel together to get to the ceremony – why should they miss out?
Don't forget the parents either.  The 7 passenger Chrysler limousine is an elegant way for both sets of parents to travel around together.  After helping out with the wedding, they too deserve to be spoilt a little and not worry about transport.  This is a great, fun way for them to travel and really enjoy the wedding day
If you are thinking of getting a sedan, but a little worried about the space and that big wedding dress, then this 7 seater limousine is ideal.  Plenty of room, spacious, with an elegant interior, this Limo is perfect!
The Black Chrysler 7 seater Limo features include:
7 passenger – 6 in the back, plus one in the front if required
2 large flat screen TV's
Stereo CD, including iPod, USB and bluetooth connectivity
Rear vanity mirrors – for those last minute touch ups
Dividing screen – for those wanting more privacy
Gorgeous black/tan leather interior
Subtle, yet classy interior lighting
Elegant bar – to help soothe the nerves on the day, and more importantly, celebrate your wedding day
Enrik Limousines offers the very best limousine hire Melbourne has to offer.  With the largest fleet of Chrysler limousines in Victoria, we  can cater for those wanting matching Chrysler sedans, our 7 passenger black Chrysler limousine, or our 10 passenger Chrysler limousines available in black and white!  Don't forget big Maximus either!  This 12 seater silver SUV limousine can handle those larger bridal parties
Along with our Award winning service, Enrik Limousines will certainly leave a positive memorable experience for your wedding day, or any special occasion